As a certified Xennial, I've seen and used almost every music format that has come into existence. When I was growing up, I can remember having multiple systems in the house that could play records (both 33 1/3 and 45s) and 8 tracks. For awhile we even had a large console system with a radio, record player with changer feature and an 8 track player. We had a collection of records sitting on the floor in a closet and a set of records would come out around the holidays. There were even a few specifically for us kids. We had tape players and eventually CD players too.
I was too young at the time to really appreciate what was in the record collection or even tell if the systems we listened on where of any quality. The records were beat up and if they were in a sleeve at all the sleeve was tattered at best. I can still remember all of the pops and crackles that I thought was just normal for the medium. Records were all we had at the time and I didn't know anything different at that age. Eventually tapes replaced vinyl records and CDs replaced tapes. By the time I really got into owning my music it was only on CD and then digital formats took over. I still have a large number of the CDs I bought over twenty years ago and they still work perfectly fine.
Late 2020 I got into a conversation with my wife about how vinyl records were so popular again, how we both grew up with old Christmas records and how we missed listening to them. Being who I am, I couldn't help myself and got caught up in the idea of giving records a try again. That year, I bought one of those inexpensive little suitcase players and a couple of Christmas albums. Even with this little inexpensive player I was intrigued with it all. The large artwork, the record itself spinning on the platter and the relative simplicity of it all producing sound. Naturally this meant I had to add a "proper" turntable to my wish list along with some records and hope for the best.
Suffice to say, a turntable was eventually delivered to the house. In January of 2021 I received an Audio Technica LP120x and I got to work hooking it up to my system. The AT LP120x requires some mild assembly to get started. I had to put on the counter weight and the headshell as well as the platter itself. Then I had to properly balance the tone arm and ensure everything was set just right to ensure it played records as well as it possibly could. Then I set the needle down on a record.
The first thing I noticed was just how good it sounded. It was nothing like I remembered at all. The sound was full and rich in a way that I did a double take. Was I really listening to a record and not a CD or stream? How did I not know that records sounded like this?
I'm not here to tell anyone that records are better than any other media format. They're not. Records simply cannot compete with digital in terms of wow and flutter, jitter, dynamic range, noise floors and every other technical spec you can think of. Records cannot compete with the convenience and portability of digital files and streaming. What I am saying is that records can sound really good and change your listening experience in a way that you might find enjoyable. Vinyl records are an experience that is a bit like reading a book rather than watching a movie. The larger format is tangible and has weight. There is no mystery to how it is played, you can see it plainly spinning on the platter with a needle tracking a groove. Records are delicate and require care to prevent scratches and occasional cleaning to keep them sounding good. Unlike a CD, a scratch in a record is definitely something you'll hear.
Records, to a greater degree than other formats, allow you to customize the sound a bit. The sound signature of CDs and CD players (as well as digital files) is largely the same between devices. I think most people would find it difficult to tell the difference between one player and the next. Record players, however, because of the physical properties of it will always have tradeoffs due to physical differences and limitations imposed by those differences. You can change the tonal characteristics of a record player by changing what type of stylus (needle) you use or the cartridge it is attached to. Maybe you want a warmer sound with more midrange and bass. Or maybe you prefer a brighter sound. Whatever your preference, you can work towards it in subtle ways.
All of this is to say that, listening to music on vinyl is more involved in a good way. You are more a part of the process and for some people this is perceived as a benefit to the medium. Being perfectly capable of excellent sound quality while adding in these other tangible bits really adds to the overall experience if you're someone who is looking for just a bit more out of the experience it is an excellent direction to go towards.
Of course, records aren't perfect. Because they are played by dragging a stylus through a groove, vibrating the stylus in order to reproduce sound, they will pick up anything extra in those grooves like dirt, dust and scratches and reproduce them as annoying clicks, pops and crackles. They'll even happily playback static shocks that might occur if the air is particularly dry. This was one of the most difficult things for me to get used to when starting out because I was very much used to CDs and digital files being free of any pops and clicks. Records can also come with manufacturing defects with badly pressed grooves, grooves that are off center or even records that are warped. Most of the time these don't ruin an entire album but I have at least once exchanged a record that I just couldn't get cleaned properly. This is just part of the process.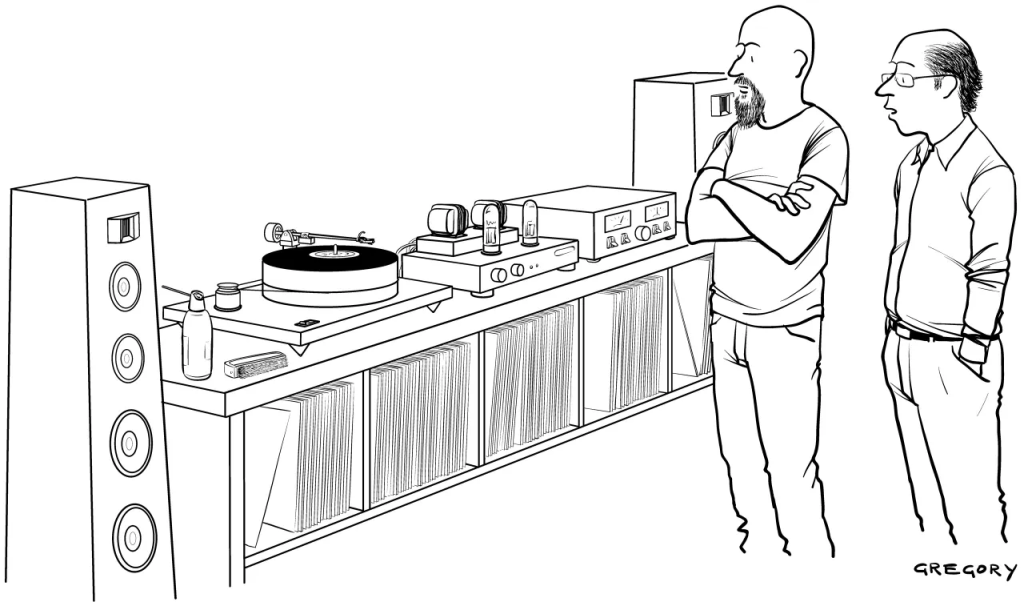 Through all of 2021 I have been picking up new and old records, adding them to my collection and tracking them on discogs. I also picked up equipment to make cleaning records easier and as effective as I could so that I could reduce all of the pops and clicks as much as I could. For 2022, I don't expect that I'll completely stop adding to my collection but there is one more problem that is unique to vinyl records right now which is cost. Records are considered a "premium product" and carry a premium price. Even at the beginning of 2021 a lot of newly released records were priced between $20 and $30. At the end of 2021 I've been seeing a lot of records priced between $40 and $50, a significant increase that really makes me rethink a purchase unless it's something I really want. I'm hoping market pressures will resolve the pricing issues in 2022.
Thank you for joining me today while I ramble on about my vinyl addiction. If you are also into vinyl or thinking about it leave a comment!